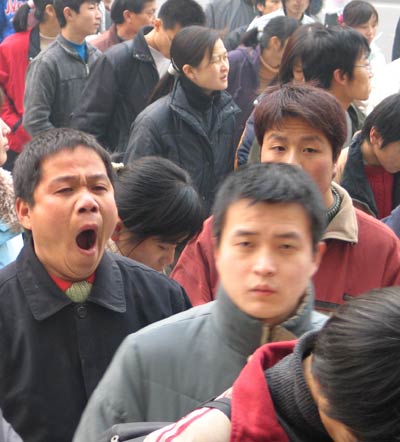 GUANGZHOU: Sales of adult diapers are booming as residents prepare themselves for long-haul journeys home on crowded trains for Lunar New Year.

Many supermarkets in Foshan, a city in South China's Guangdong Province, have reported an increase in sales of about 50 per cent.

The products, designed for incontinence, have been repositioned at prominent places on shop shelves since the start of the peak travel season for Spring Festival began on January 14, Guangzhou-based Yangcheng Evening News reported.


The number of train seats for people returning home for family reunions are limited because of the huge demand in the period.

It means large numbers of passengers have to buy standing-only tickets and have to jam into all corners of carriages, even in toilets.

This often makes it almost impossible for passengers to pass through and reach the toilets and they are forced to go without relieving themselves for the whole journey.

"In this period, a common train has to transit 2,000 passengers, with only around 1,000 seating tickets," Zhang Dazhi, an officer of Guangzhou Railway Group, said.

It is not just crowded conditions on the carriages themselves that people have to contend with.

Before they can get home, some have to stand in queues for hours to buy train tickets and also wait with thousands of other people at packed railway stations for their trains.

Once on the tightly-packed carriages, some passengers have to stand for long hours, with the journey time from Guangzhou to Beijing, for example, being about 24 hours.

During the peak travel period last year, some passengers even became deranged on their journeys because of the conditions and jumped out of the carriages.

"The deep-seated concept of a reunion with families for the Spring Festival prompts people to repeat the journeys, even though they know clearly how difficult the journeys are," Pan Hong, a psychologist in Guangzhou, told China Daily.

By Liang Qiwen (China Daily)